The most frequent and reliable transport services to the beaches around San Juan del Sur and beyond.
NOTE: CURRENTLY, ALL SHUTTLES REQUIRE A MINIMUM OF 4 PEOPLE FOR ALL LOCATIONS
We started running shuttles to the beaches long before the roads were improved. Over the years, we grew bit by bit and today, we effectively serve as the public transport system to surrounding beaches.
Our shuttles to Playa Maderas have no minimum and leave multiple times a day. The shuttle fleet is designed to accommodate both large and small groups and as many surfboards you can dream of.
Shuttles to Playa Hermosa (a secluded beach with rad amenities) and Remanso are also on offer often.
If you've got enough people or enough initiative to convince 5+ people, we'll take you anywhere you want, anytime.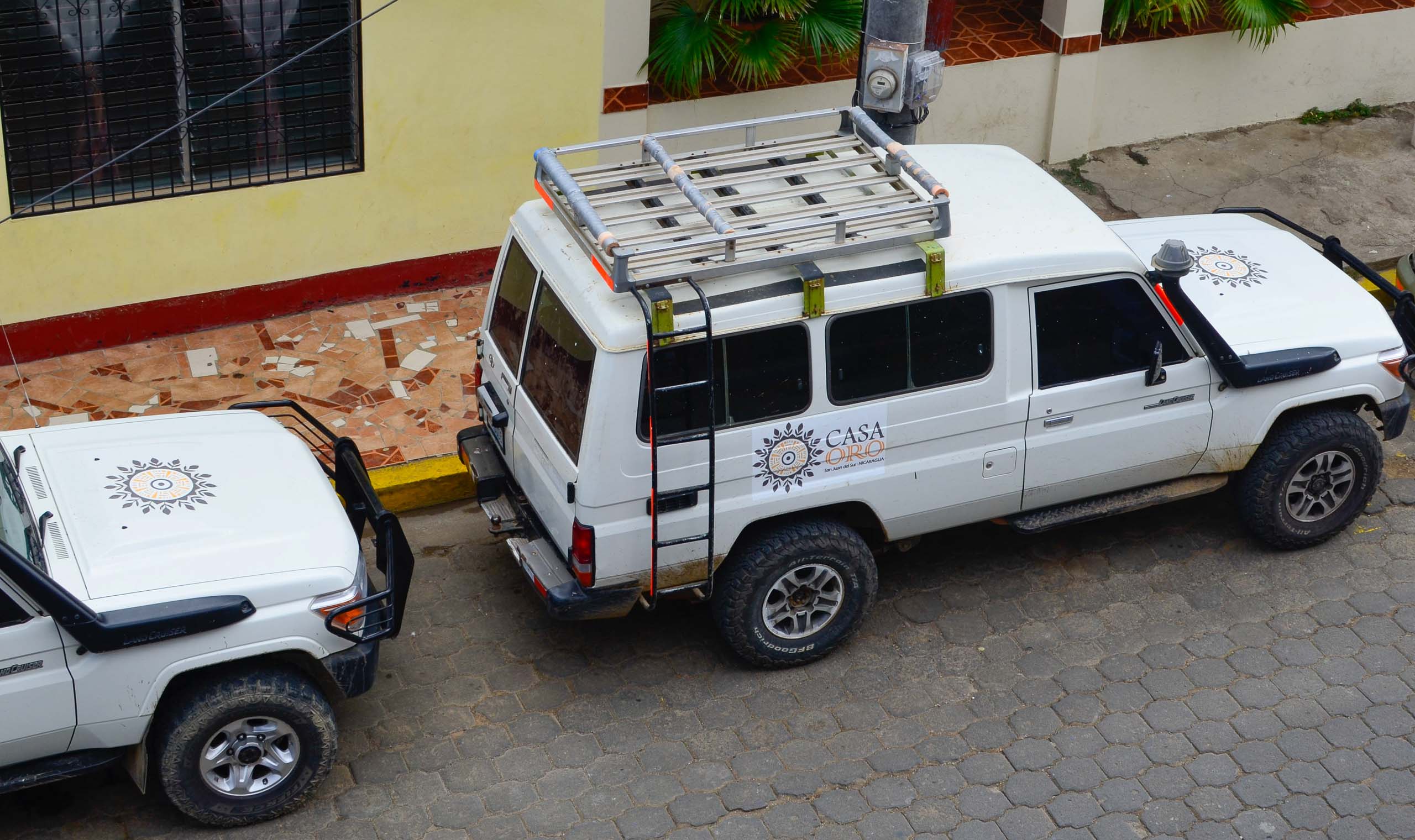 Departure from Casa Oro
10:00 am
12:30 pm
2:30 pm
5:45 pm
Return from Playa Maderas
10:45 am
1:15 pm
3:15 pm
6:30 pm
Departure from Casa Oro
11:30 am
Round Trip $10
Includes Entrance Fee
Consumable in Hermosa Beach Restaurant
Return from Playa Hermosa
4:35 pm
Departure from Casa Oro
11:30 am
Return from Playa Remanso
5:00 pm
With a minimum of 4-6 people, we'd be happy to take you and your friends anywhere, anytime.
You will ride secure in a Casa Oro vehicle and have a personal driver for the trip.
Ask for group rates.
Playa Majagual
Playa Escameca
Playa Yankee
Playa Coco
Playa Gigante
Playa Popoyo
We'd be happy to help you get to where you're going next.
Prices are per person.
Departure 9:30am
Rivas | $15
San Jorge | $15
Granada | $15
Managua Airport | $35
Leon | $25
Prices are for full taxi
(4 spots).
Border | $25
Rivas | $20
San Jorge (Ferry) | $25
Gigante | $50
Popoyo | $60
Granada | $60
Masaya | $60
Laguna de Apoyo | $70
Managua | $80 day, $100 night
Most of the vans are equipped with WiFi, all have A/C, and respectable leg room. The most convenient way South.
Prices are per person, subject to minimum number of people.
Departure 6:00am
Tamarindo, 6 hrs | $57
Arenal/La Fortuna, 6 hrs | $66
Liberia, 3 hrs | $35
Puerto Viejo/Cahuita, 13 hrs | $125
San Jose, 7 hrs | $72
Monteverde, 7 hrs | $67
Inquire for group rates or special trips